Why Whitehorse?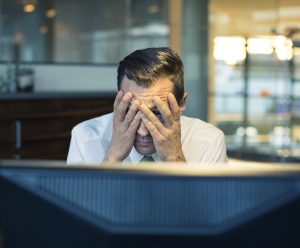 Whitehorse Graphics & Printing prides itself on making life easier for our clients. We know you've got enough on your plate — cash flow, employees, government red tape, UGH! — without worrying about your print and promotional materials. We'll make sure your order is produced on a timely basis, with good quality and a good price, and we'll deliver it to your front door — usually without a shipping cost!
When people ask what we produce, it's easy to say "anything that puts ink on a surface," and while that's technically true, it's too broad to really explain or to grasp. Instead, we just say, "We provide what you need."
A History of Whitehorse
Whitehorse Graphic Services started in 1997, birthed from the surprise ending of a job where company founders Ken Fallon and JD Scott both worked. On a Thursday afternoon, the owner of that graphic design company announced that he was closing the doors — the next day.
Ken & JD met that night to discuss the idea of buying the printing portion of the business from their boss. They made that offer the next morning, and the boss's acceptance started a whirlwind two weeks. The last day of work was Friday. They helped their boss move out on Saturday, set up their new office on Sunday, and unofficially opened for business on Monday. The following Saturday, Ken married his new bride, and after a quick vacation to celebrate their marriage, Whitehorse was up and running.
Along the way, we realized that our name didn't fully match up with our primary service, so in 2012 we made a small adjustment to our moniker and became Whitehorse Graphics & Printing.
Other than the name change, business continued pretty much status quo until the end of 2013, when JD felt led to explore another career, and sold his portion of Whitehorse to Ken, who continues to lead the firm. They remain friends, and Ken continues to rely on JD's expertise on a consulting basis.
In 2014, recognizing that their clients' needs had expanded to such items as screen printing, embroidery, and promotional products, Whitehorse added a wide variety of capabilities to meet those needs.
The company name was inspired from Revelation 19:11, which refers to a "white horse, whose rider is called Faithful and True." We offer a discount to Christian ministries that use our services.
A Glimpse Into the Leadership
Ken has gone through a bit of a Twister game in his career. Growing up he was convinced he'd be the next Neil Armstrong, but that was dashed to the rocks when he found out you had to be good at math.
He briefly considered following his dad into a career in software engineering, but — well, see the previous paragraph.
He finally found his meaning in life (or so he thought) in 8th grade, when his social studies teacher suggested he join the school newspaper. He continued on to the high school newspaper, and somehow talked his journalism advisor into appointing him co-editor of the paper (really, he was carrying water for his more talented co-editor), and went on to the University of Oregon to earn a journalism degree.
After college, Ken worked at a tiny newspaper in the foothills of Oregon's coast range, literally running everything except advertising sales, then moved to the coast for five years of reporting and photography at the Newport News-Times.
Interested in exploring other opportunities, he moved to Portland in 1995, taking a job at the previously-referenced graphic design studio until it closed at the end of 1997 and Whitehorse was born.
Ken lives in Southwest Portland with his wife and two teenage daughters, and loves being outnumbered. Outside of work, he enjoys playing drums on his church worship team, and wishes he had more time for photography.